Sold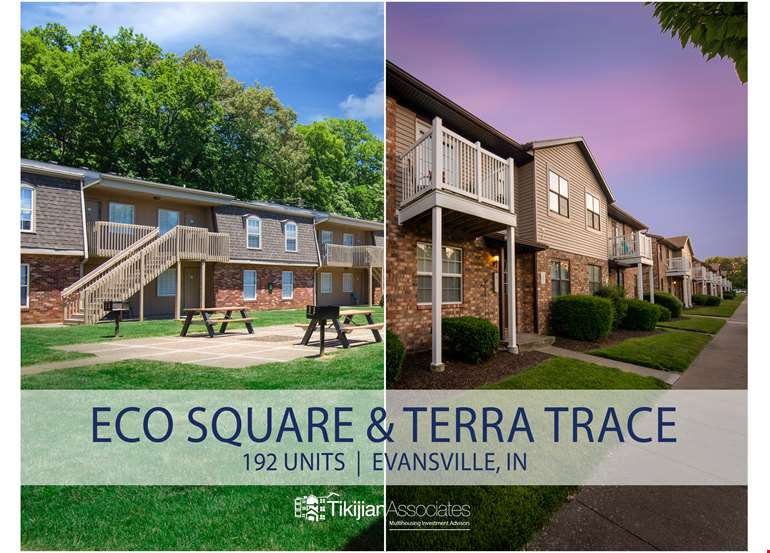 About Eco Square & Terra Trace
Eco Square is a 108-unit garden apartment community on the southeast side of Evansville, Indiana. Built in 1966, the property is comprised of eleven two-story residential buildings. Buildings have brick exteriors with mansard roofs. All windows have been replaced since original construction. Eco Square is named to reflect its environmental and sustainability focus. Residents enjoy eco-friendly living amenities such as community gardening and composting and on-site recycling. Many units have energy saving light bulbs and low-flow water devices. The community offers a resortstyle swimming pool, a large, well landscaped courtyard, grilling areas and bike stations.
With the exception of one efficiency unit, the property consists of 107 Two Bedroom/One bath units with identical 825 square foot floor plans. The leasing office and maintenance shop are located in one of the Two Bedroom units.
Units feature large living rooms and walk in closets in the master bedrooms.
Terra Trace is an 84-unit garden apartment community on the east side of Evansville, Indiana. The property was built in 1978 and is comprised of eleven two-story residential buildings and a single story clubhouse/ office. Building exteriors are brick and new vinyl siding (installed in 2013). Roofs are pitched with composite shingles. Nine roofs were replaced in 2013-2014. Other recent capital improvements include replacement of balconies, new signage, new landscaping and hallway refurbishment. This refurbishment included painting, new light fixtures and new flooring at stair landings in all twenty-two halls and carpet in ten halls.
The property consists of 56 One Bedroom/One Bath units (in two floor plans), 20 Two Bedroom/One Bath units and 8 Two Bedroom/One and One-half Bath units. Units have generous floor plans, are all electric and include private access intercom systems. Select units include private patios or balconies and outside storage. Eight units have upgraded kitchens (stained cabinets, new cabinet hardware, counters, lighting) and new bathroom vanities. Upgraded units command rents between $35 and $65 per month more than non-upgraded units.
In addition to a clubhouse with Wi-Fi, community amenities include a swimming pool and on-site laundry facilities.